Lucky Block Mod 1.16.2/1.15.2/1.7.10 adds just one block, yet over one hundred possibilities to Minecraft. Just mine the Lucky Block, cross your fingers, and hope it will drop the items you need. But now, with this new version, you can expect more than just items. The Lucky block mod can spawn animals, monsters, other entities and even structures. From giants to fireworks, sticks to diamonds, the Lucky Block will give you an exciting experience every time you mine it.
Features:
Luck Levels
Lucky blocks can get different 'luck levels' if you put them in a crafting table with certain items.
The 'Luck' of a lucky block is diplayed as a bar from 0 to 100.
The higher the luck level, the more likely it is the lucky block will give you something good.
Luck levels can also be negative, 0 to -100. Negative luck levels make lucky blocks unlucky.
There are 3 Lucky Blocks in the creative inventory. One is normal, one has a luck level of 80 and one -80.
Only Lucky Blocks with a luck level of 0 can be stacked.
List of items that affect the luck level is under 'Crafting'.
Generation
Lucky blocks can now also generate inside of custom structues.
The current structures are a quartz 'greek temple' structure and a wreckage of stome bricks and netherrack.
Lucky blocks in the temple will have a luck level between 50 and 100, but in the wreckage it's -50 to -100.
By default, there is a 50/50 chance a lucky block will spawn on its own or in a structure.
Lucky Blocks on their own have a luck level of -20 to 20.
Spawnrate back to 1 in 200 per chunk.
Drops
Added 100 new drops.
A temple with 8 Luckly Blocks (rare).
2 Lucky Blocks. One lucky. One not. Choose wisely.
A bunch of different types of fish, with a fishing rod.
A villager riding on top of a stack of pigs.
Horses.
A pointless silly message about grave danger and mushrooms.
Other Features
3 different wishing well structures. Throw in a coin, and see which with you get.
3 trading villagers. They will offer you all the lucky tools/armour/weapons at a reasonable price.
Giant slime! Taller than the trees! Sometimes even a Magma Cube.
Lucky potion with random positive effects.
Unlucky splash potion with random negative effects.
Tamed wolves with different colour collars.
Tamed cats, with different colour skin.
Aghast! It's a Ghast.
A witch amongst a cloud of bats.
Lovely bouquet of flowers.
A bunch of enchantment books.
Some useless, random and hopefully humorous jokes.
Crafting Recipes: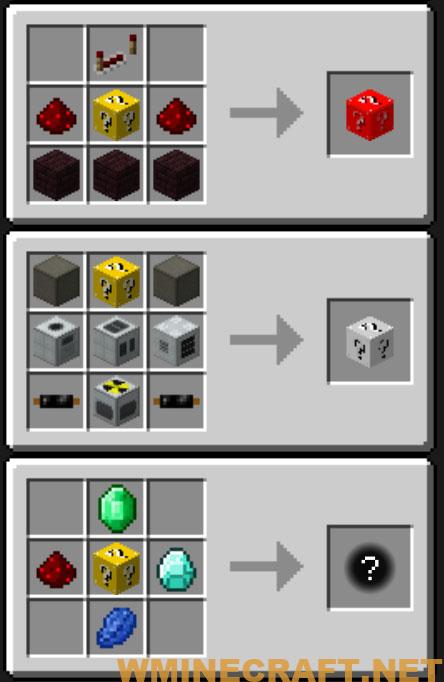 How to install Lucky Block Mod 
1. Download Minecraft Forge 1.16.2 Installer, the file Lucky Block Mod.
2. Right-click Forge Installer, Run as Administrator and click OK to install Forge.
(You can skip this step if you have Minecraft Forge installed)
3. Open Start on desktop> Open Run (Or you can use the Windows + R
keyboard shortcut)
4. Type %appdata% into Run and press Enter.
5. Go to /.minecraft/mods folder
6. Place the jar file of the mod you downloaded in the mod folder and then run
Minecraft.
Video Install:
Lucky Block Mod 1.16.2/1.16.1/1.15.2/1.12.2 Download Links:
More: Wminecraft and Minecraft 1.16.2 Mods