The chaotic scenes started on Wednesday this week. Videos resurfacing on the Internet are showing hundreds of Foxconn workers protesting and clashing with local police in the Foxconn factory in the Chinese city of Zhengzhou. It is also the largest iPhone factory in the world.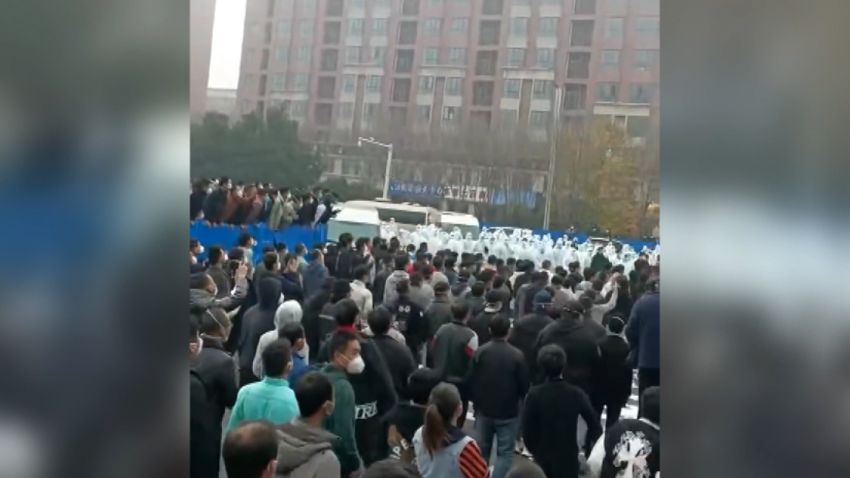 Source: CNN
There are several reasons for this out-of-control anger, mostly related to the food quality that the Chinese manufacturer provides to its employees and unpaid bonuses. For several years, the Chinese factory has been known for many controversies about its working environment and condition. Committing suicide is not even abnormal in this factory because workers have to deal with too much pressure and depression from their job. 
Foxconn is in charge of more than 70 percent of Apple products which are iPhone, iPad, Mac, AirPods,… There are over 200,000 employees working in the Zhengzhou factory. Since COVID lockdowns, it has been troubling with maintaining workers. Especially with China's zero-COVID policy, many of them are afraid of being restricted and stuck at the factory. They wanted to go home. 
Source: CNN
Restrictions have never been easy, even at our own home. Not to mention inside a factory with inconvenience. The cafeteria is closed therefore it's harder to get food. Moreover, they are also panicking because of the supply shortage. China's zero-COVID policy has been heavily affecting the lives of people in China, Chinese and foreign people. Until now, they are not allowed to travel and are limited to social interactions. A few months ago, there were several videos on social media claiming that the Chinese people opposed this decision while basically every other country is already open. China is also the origin of COVID with the first cases in late 2019 and early 2020. 
iPhone output might fall up to 30 percent with everything happening at the Zhengzhou plant. Foxconn has stepped up to handle the situation by offering bonuses and ramping up production at Shenzhen factory. However, workers are angry mostly because they did not keep up to contract agreements. It makes them not want to work anymore. 
A Foxconn worker answered that Foxconn had changed contracts, therefore they were underpaid. Moreover, the factory also did not provide enough food and other supplies, so it was hard for them to maintain their lives. Working conditions were also not qualified. "If they do not address our needs, we will keep fighting", this person continued. 
For more latest updates and news, make sure to visit http://aubtu.biz on a daily basis.