Download Tinkers Construct Mod for Minecraft 1.12.2,1.11.2 and 1.10.2. Tinkers Construct 1.12.2 will allow us to melt mineral resources and make molds of weapons and tools to make the various parts that makeup tools and weapons. This will allow us to customize these objects, turning them into more efficient, durable, and powerful weapons and tools than those predefined in the game.
The process is more straightforward than it seems. First of all, we must create a smelter for mineral resources, transforming solid resources into liquids or fluids. Then we will be able to make the molds of weapon and tool parts, within which the liquid or fluid of the mineral resource will be allowed to cool, giving rise to a piece.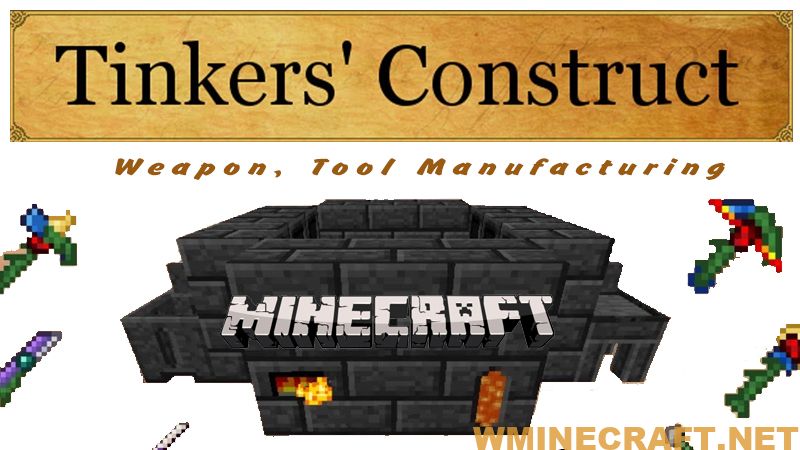 Suppose we put together the various pieces created in a new type of crafting table called «Part Builder.» In that case, we will obtain a personalized weapon or tool, more efficient, powerful, unique, and with greater durability than those predefined in Minecraft.
How to install
Download Minecraft Forge Installer,Fabric Modloader, Fabric API
and Mantle Mod, Download Tinkers Construct Mod 1.12.2, 1.10.2 and 1.7.10 (choice)
Double click on the downloaded Forge file to run the installer.
Paste the downloaded "Mantle" file into the .minecraft / mods folder
Paste the downloaded file of the mod into the folder .minecraft / mods
Now we can start creating new weapons and tools!
Download Links:
Download Tinkers Construct Mod for Minecraft 1.7.10
Download Tinkers Construct Mod for Minecraft 1.10.2
Download Tinkers Construct Mod for Minecraft 1.12 and 1.12.1